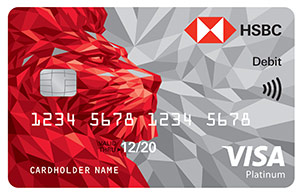 HSBC Personal Banking Account
Discover a more rewarding banking relationship with the Personal Banking Account, the everyday current account that comes with great benefits.
No minimum balance fee for salary transfer of AED 5,000 and above

Fee-free cash withdrawals at any bank ATM in the UAE

Fee-free international money transfers on INR, PKR, EGP

3

, PHP

Fee free Overdraft up to 1 salary multiple or AED 50,000 (whichever is lower), the first AED 500 being interest free

4

One free balance enquiry at any bank ATM
Choice between AED, USD, GBP and Chinese Renminbi account currencies

Daily cash withdrawal limit of up to AED 8,000 at HSBC UAE ATMs

A free international Visa Debit Card accepted at over 25 million outlets worldwide, giving you access to your accounts at over 1 million ATMs around the world

Utility bill payments through online and mobile banking

24/7 banking through online banking, phone banking, mobile banking and SMS alerts to manage your money
1No annual fees is applicable only for Premier, Advance and Visa Platinum Credit Cards. Annual fee of AED 1,500 applies to the HSBC Black Credit Card and AED 299 applies to the HSBC Cashback Credit Card.

2HSBC Credit Card Agreement Terms, fees and charges apply. Air Miles, VOX Cinemas and Entertainer Terms and Conditions apply.
3If charge type "All charges to be paid from my account" is selected, the correspondent bank will not deduct any of its charges from the remittance amount and there will be no money transfer charges by HSBC U.A.E. for transfers of Indian Rupee to India, Pakistani Rupee to Pakistan, Egyptian Pound to Egypt and Philippine Peso to the Philippines.
4Upon request, subject to credit eligibility and satisfactory Credit Bureau check.

HSBC Platinum Select Credit Card
Your HSBC Platinum Select Credit Card includes hundreds of exciting offers on entertainment and dining with no annual fee, and a minimum monthly salary requirement of AED 5,000.

Key benefits include: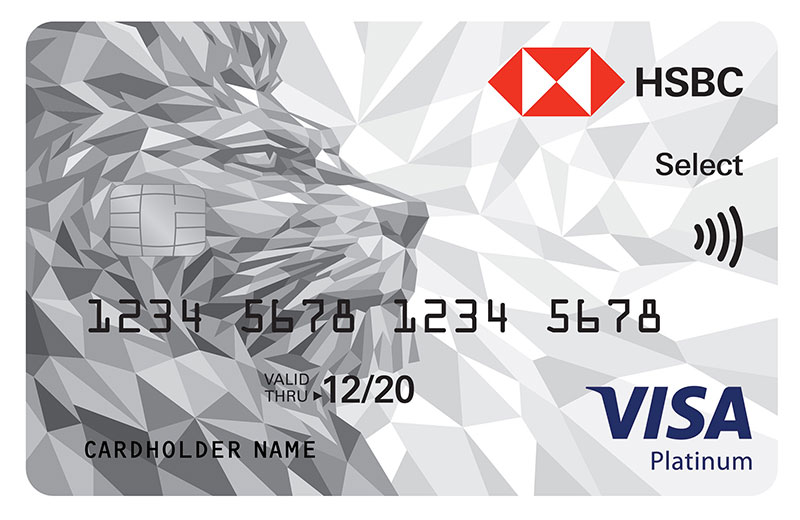 HSBC Entertainer Mobile App

Free download of our HSBC Entertainer mobile app with over 8,000 'Buy 1 Get 1 Free' offers across 15 countries.

Cinema Offers in the UAE

Enjoy 'Buy 1 Get 1 Free' movie tickets at VOX Cinemas

5

.

Air Miles Rewards Programme

Earn 1 Air Mile for every AED 4 spent on retail purchases with your HSBC Platinum Select Credit Card.
0% Balance Transfer

For the first 6 months enjoy 0% interest on the balance you transfer from another bank to a new HSBC Platinum Select Credit Card.

50% Cash Advance

Get up to 50% of your available credit limit as cash advance.
Documents required to apply
Sole account
Original passport (for all customers)
Valid residence visa (for non-GCC national customers only)
Original Emirates identification card (for all customers)
Proof of UAE residence in the form of either a utility bill/rental agreement/title deed/employment letter
Original labour card/work ID (for female applicants on father's/husband's sponsorship)
Original trade license (for all self-employed customers)
For salary transfer customers, original salary transfer letter from the employer must be provided
Joint account
Both you and your joint applicant(s) need to complete the current account opening process by personally visiting any of our branches or customer service centres, with the following documents:
Original passport (for all customers)
Valid residence visa (for non-GCC National customers only)
Original Emirates Identification Card (for all customers)
Proof of UAE residence in the form of either a utility bill/rental agreement/title deed/employment letter
Original labour card/work ID (for female applicants on father's/husband's sponsorship)
Original trade license (for all self-employed customers)
For salary transfer customers, original salary transfer letter from the employer must be provided
Existing and new HSBC UAE Customers