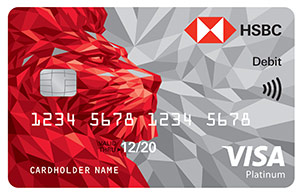 HSBC Savings Account
Turn your savings into winnings.
Up to 2 free cash withdrawals and 1 free balance inquiry on non-HSBC UAE Switch ATMs per month

HSBC Visa Cashback Credit Card

1

that offers you up to 10% cashback on all your spending

Plus 'Buy 1 Get 1 Free' HSBC ENTERTAINER app and VOX Cinemas offers, and I Love Dining discounts of up to 30% at over 400 restaurants.

Choice between AED, USD, EUR, GBP and RMB account currencies

32 cheque deposit machines at key locations in the UAE without requiring a card and PIN
Free international Visa debit card

Accepted at over 25 million outlets worldwide and giving you access to your accounts at over 1 million ATMs around the world.

Six free over-the-counter transactions every month if done using AED

24/7 banking through online banking, phone banking, mobile banking and SMS alerts

Access to 91 cash deposit machines around the UAE for instant credit into your account
HSBC ENTERTAINER app and voucher terms and conditions apply.
The benefits and features set out above are current as at the date they appear on our website. However, they may be subject to change at any time at our discretion.
We will try to notify existing customers of any changes that may impact them either in advance of the change or shortly afterwards.
Things you should know

We may request further information or documentation from you, in order to comply with the Foreign Account Tax Compliance Act (FATCA).

For all fees and charges, please refer to our latest Schedule of Tariffs.

Documents required to apply
Sole account
original passport (for all customers)
valid residence visa (for non-GCC national customers only)
original Emirates identification card (for all customers)
proof of UAE residence in the form of either a utility bill/ rental/ lease agreement/ title deed/ employment letter
original labour card/work ID (for female applicants on father's/husband's sponsorship)
original trade licence (for all self-employed customers)
for income transfer customers, original income transfer letter from the employer must be provided
Joint account
Both you and your joint applicant(s) need to complete the savings account opening process by personally visiting any of our branches or Customer Service Centres, with the following documents:
original passport (for all customers)
valid residence visa (for non-GCC national customers only)
original Emirates identification card (for all customers)
proof of UAE residence in the form of either a utility bill/ rental/ lease agreement/ title deed/ employment letter
original labour card/work ID (for female applicants on father's/husband's sponsorship)
original trade licence (for all self-employed customers)
for income transfer customers, original income transfer letter from the employer must be provided
Existing and new HSBC UAE Customers