Our credit card annual percentage rates are changing
From 15 November 2022, the Annual Percentage Rate on outstanding purchases and cash withdrawals on all of our credit cards will increase to 44.28%.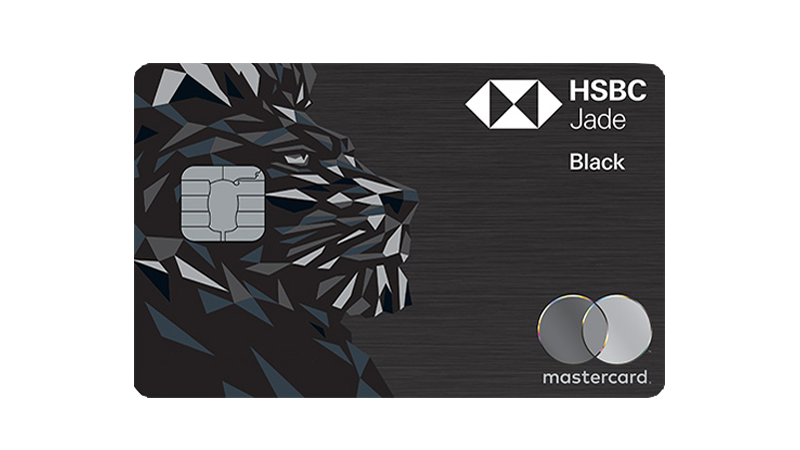 HSBC Jade Credit Card
Our stylish Jade Credit Card, with a contemporary design and metal finish, offers you unlimited complimentary access to 1,000+ airport lounges worldwide, complimentary golf, unlimited complimentary valet parking, unlimited supplementary cards and more. Your Jade Credit Card gives you unparalleled access to the world's greatest experiences. There's no limit to where these benefits can take you.
This card is available for existing Jade customers only.
Why choose a Jade Credit Card?
Worldwide Lounge Access

Complimentary access to 1,000+ airport lounges worldwide, for you and your supplementary cardholders, plus one accompanying free guest each, through LoungeKey™.

Exclusive dining privileges

Complimentary HSBC ENTERTAINER app, with access to Fine Dining and Cheers, along with hundreds of offers from the I Love Dining programme.
International Concierge

Exclusive concierge service for luxury travel planning, access to the best in fine dining, and exclusive events for your entertainment.

Golfing privileges

Two free rounds of golf per month in select golf courses in Dubai, Abu Dhabi and Ras Al Khaimah.
Cinema privileges

'Buy 1 Get 1 Free' movie offers covering 2D, 3D, 4D and other premium experiences across UAE.

Save on rides with Careem

Book with your Mastercard to enjoy 20% off Careem Chauffeur Services across the Middle East. Download the Careem app and enter promo code MASTERCARD.
Things you should know
Fixed Annual Percentage Rate is 38.88% on outstanding purchases and cash withdrawals with no annual fee. From 15 November 2022, the new Annual Percentage Rate of 44.28% on outstanding purchases and cash withdrawals will apply.
If you do not meet the repayments/payments on your loan/financing, your account will go into arrears. This may affect your credit rating, which may limit your ability to access financing in the future.
Eligibility criteria
To get a Jade Credit Card you must already have a Jade account.
Have us call you
Our representative will call you back within 60 minutes.
Apply by phone
For any query call us: 800 5233
(within UAE) or +971 4 3669027 (outside UAE).
Disclaimers
1Offered by Mastercard and subject to their terms and conditions. Visit www.mastercard.com/worldelite for latest updates on world elite card benefits. The benefits and features set out are current as at the date they appear in our document. However, they may be subject to change at any time in accordance with the applicable product terms and conditions.
2The Promo Code does not apply when you pay with Apple Pay. The discount is available when Customer books Trips on all car types, except HalaTaxi.