Earn exclusive cashback rewards
Enjoy AED 500 cashback when you get a new primary HSBC credit card and spend a minimum of AED 8,000 within 60 days.1
You could also be eligible for up to a total of AED 5,500 of exclusive cashback offers on a range of products
HSBC New to Bank Customer Offer and Relationship Offer Terms and Conditions apply.
Offer valid from 16 January to 30 April 2023 (both days inclusive).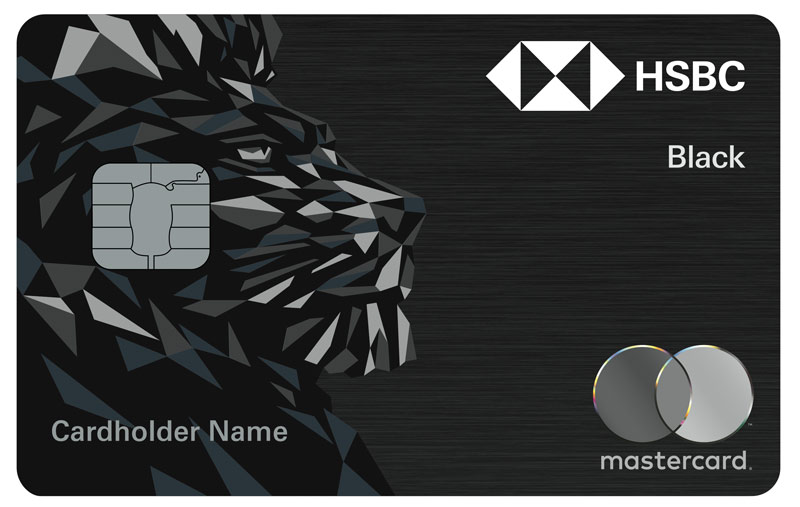 HSBC Black Credit Card
The HSBC Black Credit Card comes in a contemporary design rendered in metal
3
and is fully loaded with great travel & lifestyle benefits. From travel to culinary experiences, lifestyle and shopping there's no limit to where the benefits can take you.
Welcome offer: Get AED 500 cashback when you apply for Black Credit Card today.2
To apply, you'll need to have a Premier Account or a minimum monthly salary of AED 50,000.

Annual fee: AED 1,575 including VAT.
Why choose a Black Credit Card?
Bonus Air Miles

Enjoy 150,000 sign-up Air Miles for the first year and 75,000 anniversary Air Miles from the second year onwards.

4

Worldwide Lounge Access

Complimentary access to 1000+ airport lounges worldwide, for you and your supplementary cardholders, plus one accompanying free guest each, through LoungeKey™.

Exclusive dining privileges

Complimentary HSBC ENTERTAINER app, with access to Fine Dining and Cheers, along with hundreds of offers from the I Love Dining programme.

Save on rides with Careem

5

Book with your Mastercard to enjoy 20% off Careem Chauffeur Services across the Middle East. Download the Careem app and enter promo code MASTERCARD.
International Concierge

Exclusive concierge service for luxury travel planning, access to the best in fine dining, and exclusive events for your entertainment.

Golfing privileges

Two free rounds of golf per month in select golf courses in Dubai, Abu Dhabi and Ras Al Khaimah.

Cinema privileges

'Buy 1 Get 1 Free' movie offers covering 2D, 3D, 4D and other premium experiences across UAE.
Air Miles is the loyalty program of HSBC UAE Credit Cards that rewards cardholders with Air Miles every time they use their credit card. As an HSBC Black Credit Cardholder you enjoy the highest earn rates compared to other HSBC cards.

Bonus air miles
Enjoy 150,000 sign-up air miles with your new HSBC Black Credit Card and receive 75,000 anniversary air miles on renewal of your membership from the second year onwards. The air miles will be credited to your Air Miles account within 60 working days after the annual membership fee has been paid.

Earning miles
Spend anytime, anywhere with your HSBC Black Credit Card and earn air miles:

travel: Earn 2.5 air miles for every AED 1 spent on travel related purchases, including airlines, hotels and car rentals
foreign currency: Earn 1.5 air miles for every AED 1 spent in all currencies other than UAE Dirhams
online: Earn 1.5 air miles for every AED 1 spent on all online purchases
general retail: Earn 1 air mile for every AED 1 spent on all other spends
You will earn air miles up to the credit limit assigned to your credit card. You may review the detailed Air Miles Terms and Conditions below.
Foreign currency transactions are being converted to AED and reflect on your statement at the applicable exchange rate as determined by MasterCard.

Redeeming miles
Air Miles has a fully interactive website and mobile app allowing you to check your air miles balance any time and redeem online, choosing from a wide range of travel and entertainment rewards, including flights, hotel stays, retail vouchers and much more. Please visit the Air Miles website to find out more and redeem your miles.
Air Miles Exchange
Exchange your Air Miles for your favourite airline's loyalty miles. It's easy.

log on to your Air Miles account at www.airmilesme.com
go to 'Redeem Air Miles' and select 'Travel'
choose your preferred airline
exchange your Air Miles
You'll get an email when the exchange is complete and will be able to see your new balance at your airline loyalty programme account.
Emirates Skywards
Exchange your Air Miles to Emirates Skywards Miles at a ratio of 12:1.
Etihad Guest
Exchange your Air Miles to Etihad Guest Miles at a ratio of 9:1.
Please note that:
you need to have at least 30,000 Air Miles in your Air Miles account to make an exchange
you must have a valid airline loyalty membership number
it's your responsibility to provide the correct transaction details
once you've exchanged Air Miles, you can't reverse the exchange
this offer is subject to the terms and conditions of the participating loyalty programmes and the Air Miles programme.
Air Miles partners
Collect Air Miles on everyday shopping from a huge range of Air Miles partners including Sharaf DG, Damas, Careem, Al Jaber, Tavola, and many more! Every time you shop at any of the Air Miles partners remember to use your Air Miles card and your HSBC Black Credit Card to earn more miles faster. Find out more about the programme and discover exciting offers on the Air Miles website.

Remember, with Air Miles you enjoy
freedom to choose when (time/date of travel), how (class of travel) and which (airline) to fly with
no black-out dates; if there is a seat available, you can book it on the Air Miles Travel Shop
pay with miles and top up with cash
pay for the full cost of the ticket including taxes
Balance transfers and Instalment plans
Things you should know
Fixed Annual Percentage Rate is 44.28% on outstanding purchases and cash withdrawals in addition to annual fee of AED 1500 (AED 1,575 inclusive of VAT.6

If you do not meet the repayments/payments on your loan/financing, your account will go into arrears. This may affect your credit rating, which may limit your ability to access financing in the future.
Who can apply?
You can apply for the Black Credit Card if you:
have a Premier Account or a minimum monthly salary of AED50,000

are between 21 and 70 years old
live in the UAE
If you're an HSBC Premier customer in another country or region, then you'll automatically be eligible for a Premier Account in the UAE. If you'd like to apply for a Premier Account, then you can apply for the Black Credit Card at the same time. It's easier than ever to apply and get an instant approval in principle.
Online
If you're new to HSBC UAE, you can check your eligibility online and get an approval in principle in just 5 minutes.
Once your application is fully approved, your card could be with you within 24 hours.
Callback
Whether you bank with us already or are new to HSBC UAE, you can ask for a callback.
We'll get back to you within 60 minutes during working hours, Monday to Friday, 9:00 to 16:30. If you contact us outside these times, it will be the next working day.
By phone
Or you can just give us a call.
8004320 (within UAE)

From outside UAE call +971 4 224 1000

Lines are open 24/7. We may record calls to help improve our service to you.
Notes
1Applicable for new primary Credit Card customers only. Subject to making a minimum of AED 8,000 of eligible spends during the first 60 days of the credit card account opening date.
2AED 500 cashback available to all new and existing HSBC customers who apply for a new primary HSBC Credit Card and who do not have a primary Credit Card at the time of application and did not have one 6 months prior to application. You must apply before 30 April 2023 to qualify and only eligible spends as referenced in the Terms and Conditions will be accepted.
3Metal card is issued to the primary cardholder only. Supplementary cardholders are issued a Black card made from 85% recycled plastic.

4The bonus sign-up Air Miles offer applies to the first year only. The bonus anniversary Air Miles offer applies from the second year onwards. You must have paid the annual membership fee for the card, as shown in the Schedule of Services and Tariffs (PDF, 1.6MB), to receive bonus Air Miles.
5The Promo Code does not apply when you pay with Apple Pay. The discount is available when Customer books Trips on all car types, except HalaTaxi.
6Will increase by 12% (6% for HSBC Black, Jade Credit Card and HSBC Premier MasterCard)) for so long as the Cardholder is overdue on the payment. Original Finance Charge rates will be re-instated when Cardholder is not overdue from the next statement date. In addition, a Collection Agency Fee will be charged to the Cardholder's Account when the Bank appoints an external Collection Agency to follow up on the outstanding payment.
You might be interested in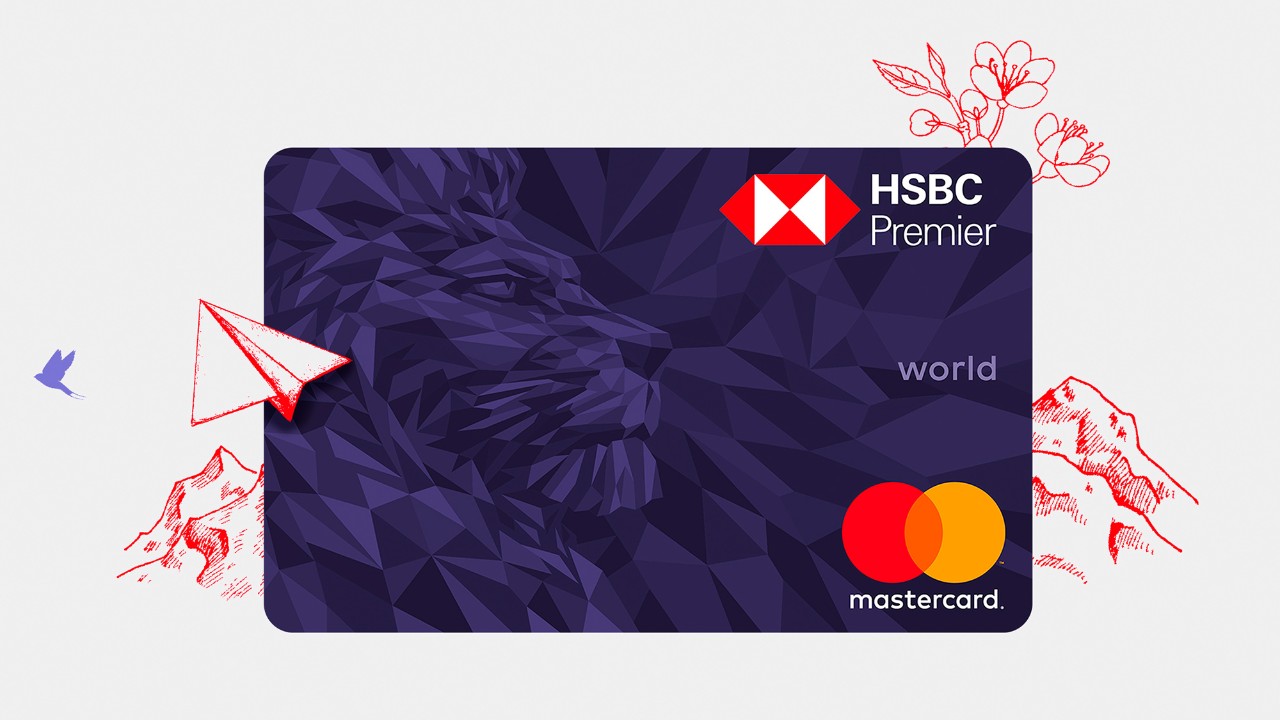 HSBC Premier Credit Card
The card comes with a wide range of exclusive benefits on travel and lifestyle.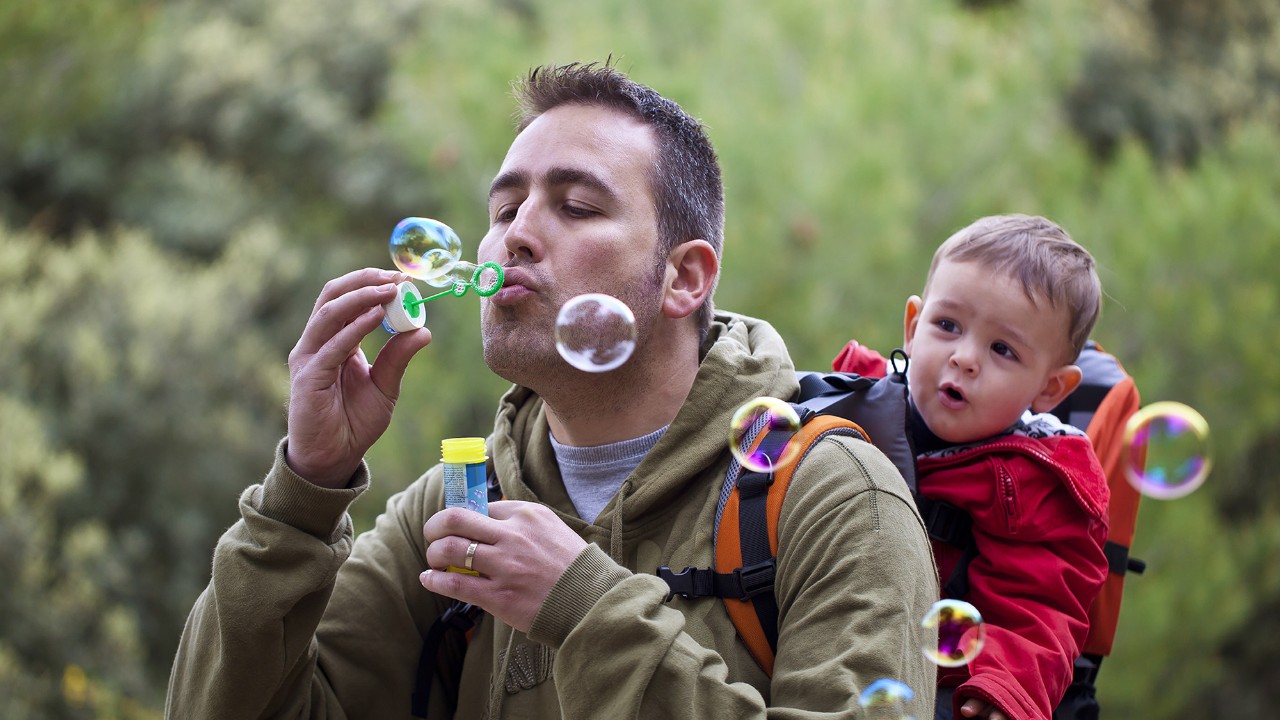 HSBC Advance Credit Card
Enjoy great travel benefits, Air Miles on everything you spend and a competitive interest rate.